thu17dec6:00 PM9:00 PMSussex Virtual Business AwardsBrought to you by County Business Clubs. Supported by Network My Club.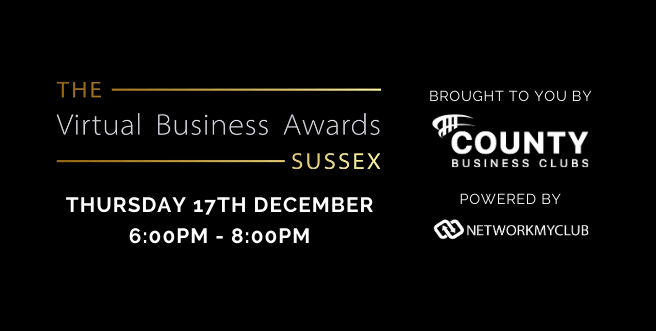 What can you expect?
Join businesses from across Sussex for the Sussex Virtual Business Awards. Brought to you by County Business Clubs and Powered by Network My Club.
Hosted on Remo. Limited to 100 places. The evening will celebrate and recognise achievements however big or small from businesses across Sussex in 2020.
Bringing together business owners, directors and teams to network and end what has been the toughest year in business on a positive.
These are the awards nominated by you. No judges. No panels.This isn't about the biggest and the best businesses, this is celebrating the wins and good news stories from Sussex businesses.
What can you expect from attending? Open networking on the Remo platform throughout. 6 awards presented throughout the evening. Entertainment. Experience boxes. Post awards networking and drinks at Network My Pub (8pm-9pm).
Awards
– Sussex Success Story
– Pivot Award
– Business Resilience Award
– New Business of the Year
– Community Award
– Team of the Year
Know someone or a business that deserves to win? Nominate them HERE.
Tickets
Single Ticket (30 available) – £25+VATpp
– Entry to the Sussex Virtual Business Awards
– Entry to Network My Pub post event
– Interactive live Q&A with guest speaker/panel, hosted by Network My Club
Table of 5 (7 available) – £125+VAT
– 5 tickets to the SVBAs to invite clients or colleagues
– Entry to Network My Pub post event
– Named table for your company
Want to be one of four sponsors on the night? Contact Sam Thomas at County Business Clubs at sam.thomas@countybusinessclubs.co.uk. 
What is Remo? Remo allows attendees to network freely around the 'room' on different tables. Have intimate group conversations and participate in interactive Q&A's with guest speakers. You can see how Network My Club use Remo for online events here.
Proceeds on the night will go to County Business Club's chosen charity – Rockinghorse Children's Charity.
An email will be sent to all guests prior to the awards with joining information and delegate list, as well as tips on how best to prepare.
Purchase Places here
Number of Places -1 +
Total Price £25.00