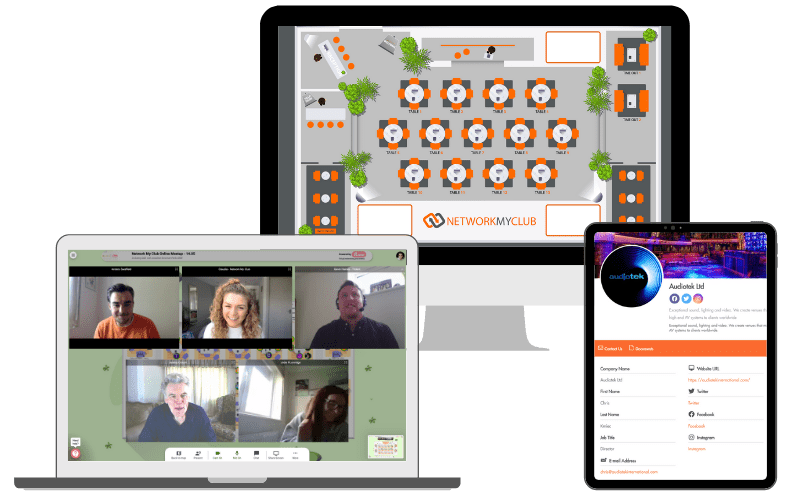 Online Business Networking Membership
Company-wide membership. Monthly terms. No lengthy contract.
Flexible and quality networking. On your terms.
Time effective networking
Your time. Your most precious commodity. We value it.
Our meetups reflect that in our focus on quality over quanity. Luckily, we achieve both.
Online networking you make room in your diary for.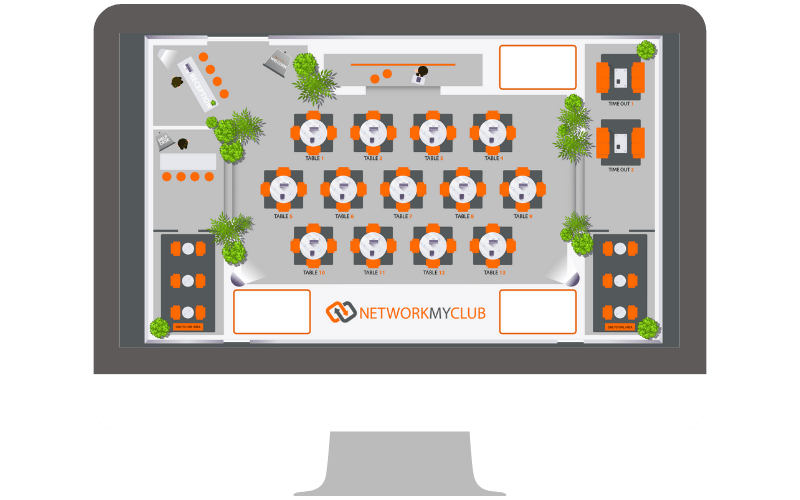 No geographic boundaries
Forget about those hours spent on the road. Forget about those long journeys to events.
We bring business to you. In the comfort of your own home, office or the beach.
Expand your network. Meet businesses from across the South East, London and beyond.
It's online networking. But not as you know it.
Hosted on the innovative and emerging platform, Remo.
Network and move freely around the 'room' from table to table
Pre-meetup information, agenda and delegate list sent the day prior
On tables you only see and speak to those also on the table
1-to-1 areas to meet other delegates individually
Includes a live interactive Q&A with guest speakers
Chat box feature active throughout the event for attendees to share ideas and communicate
Post event round-up, including guest speaker takeaways and recorded Q&A, shared by the Network My Club team via social media.
Our Online Meetup room layout: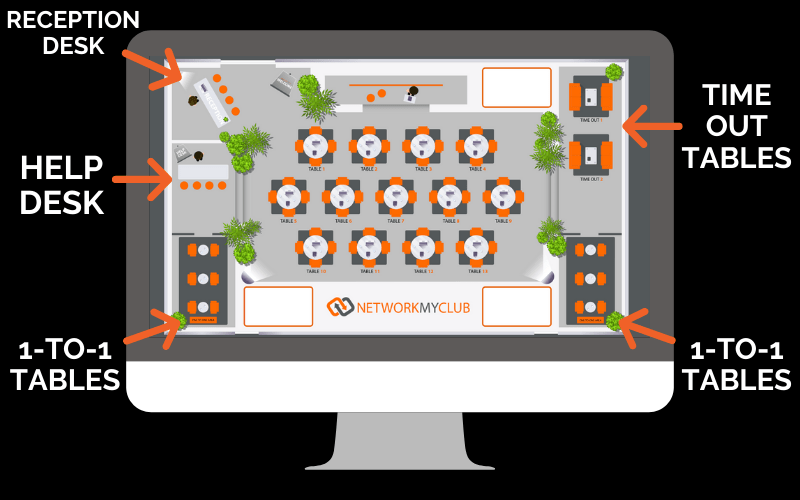 "The best online networking I have done. As good as the real thing but without the travel!"
"The structure was excellent. As close to a face to face networking event online I've been to."
BASIC
✓  

Onboarding call with our Membership Manager, Claudia

✓  FREE access to 3 online meetups per month

✓  Use of Network My Club member logo on your website, email signature and/or marketing material
BASIC AND…

✓  FREE

access to ALL online meetups each month
✓  Marketing discovery session with our Digital Marketing Co-ordinator, Anders. To establish how we can help promote your business across the network.
✓  Submit offers and news to other members
✓  Submit company news, offers and events to be included in our monthly members e-newsletter and blog round-ups
✓  20% discount on Online Event Management
✓  Access to Membership Partner d

iscounts
All Online Memberships Include
REGULAR MEETUPS
Weekly meetups on Remo. You won't be short of networking opportunities.
LEARN FROM GUEST SPEAKERS
Be inspired and learn from our array of guest speakers. Olympians, ex-military, adventurers, entrepreneurs, and many more. 
EXPAND INTO NEW REGIONS
Meet businesses from across the South, South East, London and neighbouring regions.
FACILITATED INTRODUCTIONS
Want to meet someone? If we can, our team will help connect you with someone from within or outside the NMC group.
REACH DECISION MAKERS
We attract business owners, directors and senior level delegates. These value building long term beneficial relationships.
COMPANY MEMBERSHIP
Anyone from your business can attend events, or be shared amongst multiple colleagues.
"Very well structured and purposeful. The meetups have well thought out questions that really bring out a lot from everyone. They are great sessions and more like face to face events."
"It was probably as close to 'normal' face to face networking as you could possibly get! Also enjoyed networking with other members across the wider Network My Club group that I wouldn't have had a chance to do in person."
"Brilliant events, love the format. It's much more like the real thing and great atmosphere. No other networking group helps and offers value to its members like Network My Club."
"The meetup formats are very refreshing, helped by good quality people in the room. Really glad we joined." 
Frequently Asked Questions
Who is your membership for?
Our online meetups and membership are for building collaborative relationships and trusted referral partnerships. It's not for being 'selly' or for spamming other members with sales emails or promotions. Think about how you could help them first. What goes around comes around.
When are your online meetups?
Our online schedule is planned well in advance and we'll keep you well informed about upcoming meetups so you don't miss out.
You can check out and diarise upcoming meetups here.
Is membership for individuals or businesses?
As part of providing a flexible membership, membership is for your business and any one person from your business can attend. We recommend the same person attending events as regularly as possible. If they're unable to attend, someone else from your company can simply attend in their place.
What is the membership commitment?
There is no long term commitment or contract. Online membership is flexible and monthly rolling so you can cancel at any time. Like all networking though, it should be part of your long term marketing strategy. The longer you stick at it, the better your results will be. Rome wasn't built in a day!
Want to speak to one of our team about membership? Get in touch today!