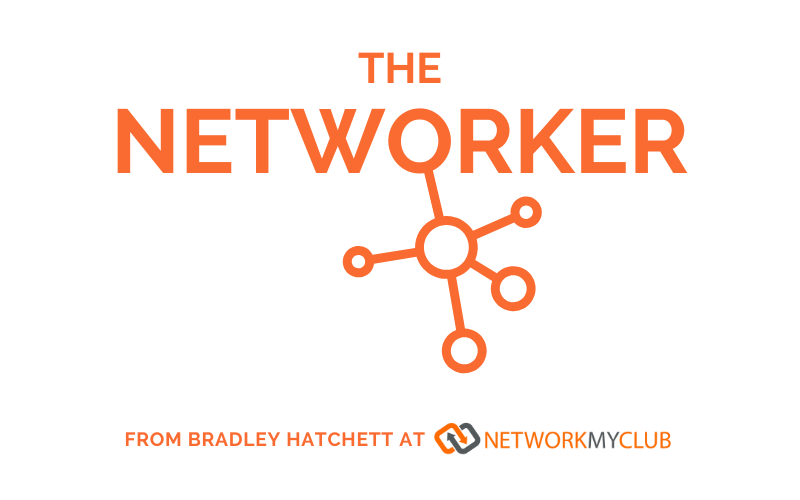 The Networker #8: 4 Simple Habits as You Leave a Networking Event
Read time: 2 minutes & 55 seconds
You walk out of a networking event.
Great. The real work starts now.
Amateur networkers walk out of an event and move onto the next thing right away.
They get their phone out. Check their emails. Open Teams/Slack. They're already thinking about what to move onto next.
Expert networkers walk out of an event and see that as a trigger to start putting that networking to work.
They know the magic of networking happens between events.
The event is usually the start of conversations.
Between is where you build on them.
And striking whilst the iron is hot increases your networking efficiency and memorableness.
Here are four small habits to take as you walk out of an event (that your competitors aren't).
1️⃣ Create note on your phone
Write down who you spoke to, conversation notes and highlights, and follow up actions.
These notes will help you personalise a follow up email, message or call.
To avoid the dreaded generic copy and pasted message. I see you.
For example; "John Doe, runs a construction business, based in London, works across the South East, enjoys rugby, has two children, mutual contact with Sharon, agreed to meet for a coffee."
You could also write this as an email to yourself. So it's in your inbox to pick up and action when back at your desk.
Whatever works for you.
💡 Pro Networker Tip: You may be tracking your networking in a CRM or something similar. Programmes like ActiveCampaign, Hubspot, Pipedrive, etc. Most of these have mobile apps that allow you to add notes to contacts.
💡 Bonus Tip: If you haven't already, check out NetHub – a recently launched networking tracking tool. The team there are doing some great work.
2️⃣ Connect with people you met on LinkedIn
You can do this before the event. But given the serendipitous nature of networking, you never know who you might meet.
Connecting with those you meet after the event is a nice way to continue the conversation and build on the connection.
And remind them of your friendly face.
I'm also seeing an increase in the use of the LinkedIn QR code scanning feature on the mobile app. In addition to, or in replacement of, swapping business cards.
💡 Pro Networker Tip: Rather than hitting connect, LinkedIn gives you a prompt if you'd like to 'add a note' to your connection request. This appears underneath your connection request when they receive it. Do this and include reference to your conversation, or next steps discussed. On LinkedIn's mobile app – this feature is often missed – and is found via the 3 little dots on their profile, and 'Personalise Invite'.
3️⃣ Block time in your calendar
This could be after the event later that day, or the day after.
To take time to follow up conversations, set some next steps, and what do what said you would.
Did you say you'd email someone? Do it.
Promised to share a link to an article with someone? Share it.
Think there is an opportunity of helping someone? Reach out.
This is a big step – and the one often missed.
The fruits to networking are in the follow up.
And being purposeful in blocking out this time mean you increase the likelihood of doing it.
💡 Pro Networker Tip: Block this time out in your calendar straight after you book onto the event to hold yourself accountable. Or at the same time when you add the event to your calendar. A neat way to stack two good habits.
4️⃣ Book onto the next event
What good is meeting someone once?
Or attending the event once?
Consistency is the ultimate key (as we learned in edition #2).
This habit creates consistency – and immediately makes you accountable.
It gives you chance to reference in your follow ups too. In case you can't catch up with them between events, or a 1-1 is not suitable.
💡 Pro Networker Tip: Save yourself this step by booking a number of events in one go. Saves you time and creates consistency with your networking – win win!
"But I don't have the time to do these?"
These steps will take less than 15-20 minutes.
And you usually have a short period of time to yourself after an event.
You might be walking back to your car or to the station. You might be waiting for a train.
Find your trigger to activate these steps.
It could be leaving the event room. Getting in the car. Sitting down on the train.
Try and refrain from looking at emails or moving onto the next task right away.
As the conversations you've just had will soon be a fading memory.
Networking doesn't start when you walk in the door of an event, and end when you walk out.
Creating these habits will make you stand out from a huge number of people (your competitors included).
And if you're not making time to follow up and action conversations at networking.
You're wasting time going networking in the first place.
Keep the conversation going. The event is the start of it.
Start creating networking magic between events right away.
The weekly newsletter for business owners and sales leaders to level up their networking.
1 networking tip, trend or tidbit – every Wednesday morning.
The Networker #46: How To Maximise Your Network (Or Not Networking) In DecemberRead time: 3 minutes & 44 secondsDecember is a funny month for networking. Social events ramp up. Traditional networking events slow down. With many other occasions filling your diary...