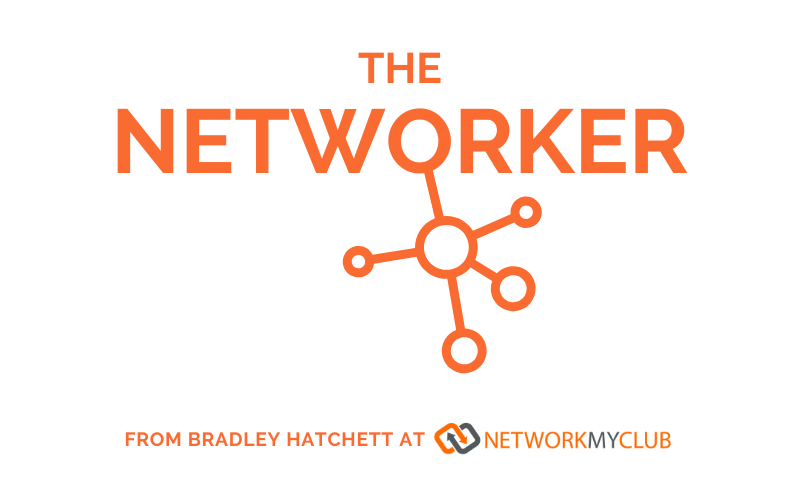 The Networker #28: Joining Conversations at Networking Events
Read time: 5 minutes & 27 seconds
In my time I've witnessed (and been on the receiving end of) some very dubious methods to joining conversations.
From the bull-in-a-china-shop style entrance.
To the awkward lingerer shuffling in and appearing from no where.
And everything in between.
You may have experienced these too.
Thankfully, it's not complicated, doesn't need to be overthought, and with a few considerations, you'll be cruising into conversations smoother than silk in no time.
In this edition, we'll explore:
Why is joining conversations a challenge?
The reality of the dynamics of conversation at events
Who to pick out
Joining conversations
Why does this feel like a challenge?
I put this down to a number of things (you might relate to one or a few):
Fear of rejection
Wondering what others will think
Not knowing what to say or how to break in
Not wanting to come across rude or gatecrashing the conversation
Imposter syndrome – "they are better and more successful than me"
Any resonate with you?
But let's stop there one second.
Reality Check
Time for a quick reality check.
Before we get practical.
Here's the reality of most conversations you see at a networking event.
To remind yourself of if you get that fear or anxious feeling of joining a conversation:
Everyone is there for the same reason – you've not gone into a nightclub or bar where everyone is with their own group of friends. Where joining in those conversations would be strange. You're at a networking event. Where everyone is there to do the same thing. To meet new people.
Most groups and conversations have formed by chance – they've been formed through the serendipitous moment after grabbing a coffee, at the bar, or meeting on the way in.Very few are by design.
Most share this same fear or are as unsure as you – so will be grateful you've taken the leap to join the conversation.
There is equally a fear of leaving conversations – for those already in conversations, they are unsure how to leave, so someone new joining the group to change the dynamic is welcomed.
No one is having private conversations

– these are what meetings are for. So unless the conversation is in the corner of the room and the signs are telling you it's private – you're not walking into someone spilling the beans on some juicy gossip.
So, there's a bit of reality served on the rocks.
Let's get practical.
Who to Pick Out and What to Look Out For
So, who do you look for? What is the best group to pick or dynamic to pick?
Here's a few do's and don'ts:
❌ Don't immediately look at the epicentre of the event – this is usually where the refreshments are, either the bar or tea/coffee area.
It's much like the kitchen at a house party. Everyone seems to congregate there. It's often crowded and loud – so not always the most conducive environment to starting a new conversation.
✅ Do look at the edge of room – this is great place to start and one that is often ignored.
After you've grabbed a refreshment, look around the edge of the room and spot the person on their own (I guarantee there will be one).
It's less intimidating than already established groups
You'll make a great first impression having saved them from doing it themselves
You'll be more comfortable as others join in your already established group
It'll be quieter and not so congregated – so easier to compose yourself and chat
They will be thinking the same as you. Waiting for their moment to join a group. Or for someone to save them and join them.
This serves you well in a couple of ways:
✅ Do pick out a small group of 2-3 people – no person on the edge of the room? No problem. Here's your next best bet. 2-3 people is a comfortable number to join in without it becoming 'an audience with' everyone in the conversation.
❌ Don't go for groups of 4+ – these are not only daunting if you're already feeling that way, but they become too crowded and are a tough amount for everyone to feel included. Quiet ones can also get left out.
💡 Pro Networker Tip
You can help yourself before even stepping into the event.
Do your pre-event research to familiarise yourself with those you're interested in meeting.
Find them on LinkedIn to put a face to a name.
Connect with them with a personalised note saying it'd be good to say hi and meet at the event.
Hopefully they accept and reply to acknowledge it, but no problem if not.
You can then look out for them at the event and find each other, they'll likely welcome you into the conversation.
My last point is – consider the dynamic where you'll be most comfortable.
As this when you'll be your most authentic self.
And authenticity is key to true connection.
Joining Conversations
Quick check – shifted your mindset? You realise everyone is there for the same reason?
Great, this makes it 10x easier to join the conversation.
Know who you're going to approach?
It's time to go in:
🤝 Don't linger awkwardly – make a subtle acknowledgement, have a smile, and ask if you can join.
Don't be that person hovering over someone's shoulder waiting to catch awkward eye contact or be asked to join the group.
Take responsibility to join in.
🤝 Casually and politely ask permission – particularly for groups already established, be aware of the fact they are in a conversation.
Here's a couple of lines I like to use:
"Do you mind I jump in? Feel free to carry on, what were you talking about?"
Asking this helps people continue where they were and bring you up to speed to include you too.
This is where curiosity is key. Ask questions for clarity or to learn more. This comes across brilliantly and will be appreciated by those you join.
"Do you mind if I join? Don't let me stop you. I'll jump in when the time is right."
What I've found both these lines do is immediately break down the feeling that they need to stop and turn all their attention to you.
I find there is onus on you when joining a conversation to allow them to continue.
To avoid that dreaded moment all conversation stops mid-flow and attention turns to you.
But sometimes, you'll find the conversation was fading out and you've joined at the perfect time!
🤝 Don't start selling and pitching – unless you are looking for sure fine way to turn everyone off and make that bad first impression.
Be curious about others, don't make it all about you, and you'll need not worry about what others think.
The Wrap Up
I totally get it. Joining a group or forming a new conversation can be daunting.
But don't overthink it.
Remember everyone is there for the same reason
Most are feeling the same way you do
If joining a group mid conversation – help them continue where they were
Be polite, curious, and don't start pitching
Watch your conversations flourish
Try it at your next event.
The first time will be the hardest and feel the most awkward (to you).
But it gets easier.
Particularly when you realise how warm others are.
Now you've joined the conversation, what happens when you need to leave it?!
Luckily, I've already covered leaving conversations.
The weekly newsletter to help business owners and sales leaders network smarter.
1 networking tip, trend or tidbit – every Wednesday morning.
The Networker #46: How To Maximise Your Network (Or Not Networking) In DecemberRead time: 3 minutes & 44 secondsDecember is a funny month for networking. Social events ramp up. Traditional networking events slow down. With many other occasions filling your diary...