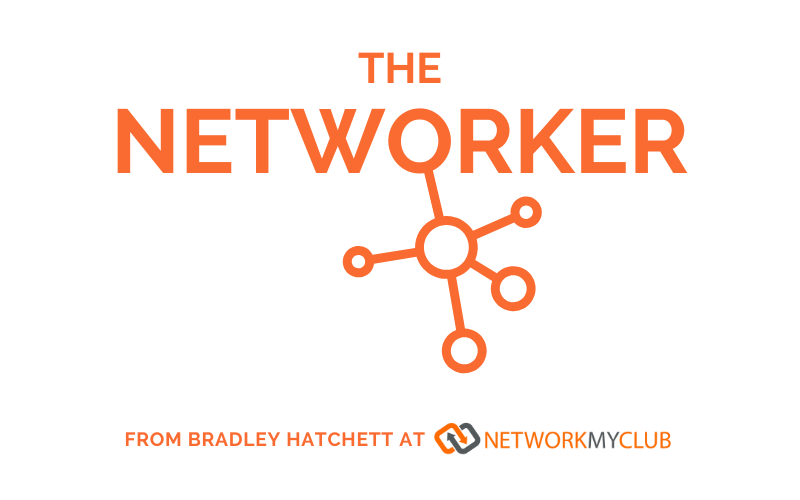 The Networker #16: You Get What You Pay For With Networking
Read time: 4 minutes & 49 seconds
Why pay to go networking?
Straight out the gate I'm going to address this.
"But of course you're going to say you should pay to go networking, you run a company that charges for networking events."
You are right.
But also very wrong.
I'm a believer of; you get what you pay for in life.
Networking is no different.
Here's why. And what you get.
It's easy to feel overwhelmed when choosing networking events, as there are SO many out there.
Naturally, particularly if you're new to networking, or just starting out in business, this means free or low-cost events can seem quite tempting.
Unfortunately, what's then delivered, and the kind of networking it breeds, have both contributed to the damaging of the reputation of networking. And the negative stigma it can have.
So I'm willing to protect it.
And whilst 'free' or very low cost events may look appealing. And there's nothing to lose.
Let's look at the reality.
I'm willing to bet that someone does it cheaper than you in your industry?
And that you pull your hair out at the corner cutting, experience, and product/service being delivered?
Networking events are no different to any industry.
But it amazes me with how, when it comes to free or low cost events, the there seems to be a lack of consideration to the quality or the value.
Like you would do with any other purchase.
For example, when searching for a hotel room. Would you go for a £35 hotel room over a £100 one without giving it any thought or doing any research whatsoever?!
Probably not.
Unless you're 18-year-old me tasked with booking a holiday to Tenerife for my friends where the brief was 'cheaper the better'.
You can imagine what we ended up in…
I've observed a race to the bottom with networking over the years.
Who can be the cheapest.
Who can get the most people in the room.
And it's at your detriment, the networker, as the quality has declined.
The bar for networking has been lowered.
So, what are you paying for? And should you be more aware of?
Attendees That Understand Value
​Do you expect to walk into an event for nothing (or next to nothing) and find your next big client?
Amazingly, some still think this is how networking works.
And it was a realisation I discovered early on in my journey from starting Network My Club.
I used to charge a ridiculously (in hindsight) low cost just to get people to events.
It was a big mistake.
Not just from a business stand point.
But because we attracted the wrong kinds of networkers.
Those that don't truly value networking.
Any reputable and serious networking organisation have costs. They aren't charities.
And a good networking event and experience isn't just getting a room and laying on some food for you (more on that shortly).
And you should understand what you're really paying for.
Clue: it's not just the food and drink.
A large portion of value is in the opportunity to be in a room where you can rub shoulders with other that might potentially help your business, and who you can help.
There's where the true value from networking is.
You review your networking activity by assessing what connections you've made and new business generated.
Not the amount of coffees drunk or food eaten.
Good networkers understand and value this.
And you want to work with clients that value your services, right?
Being at free or low cost events, you'll unlikely be surrounded with those that are going to.
The amount of times I've heard (and still hear to today):
"I paid to come to an event but I didn't got any business from it. So not sure it's going to work for me."
If you view networking like this – you just don't get it. And don't value it.
Try something else. To save your time AND money.
Attendees With The Right Approach & Mentality
I speak a lot of success coming from networking coming from the right approach and mentality.
It's attending to start conversations, create new or build on existing connections, and opening new opportunities.
It's not closing sales at every event.
Attending free or low cost networking – the mentality of attendees is often they have nothing to lose.
Except their time.
So anything is a bonus.
Meaning the approach and mindset reflects this.
It's often an approach of pitching or selling to others. Seeing what they can get.
You also have to understand the type of networker.
I call it the more 'social networker'. Who look at networking more as a social thing.
Which by the way, is a completely fine way to approach networking. Typically suiting very early start up business owners, or those with low (or no) budgets.
But this networking is quite hit and miss. And something I speak to that target market about and encourage to avoid if they can.
With paid networking, with that element of commitment, this mindset breeds more open-minded and collaborative conversations, with the view to help one another see a return.
It's viewed as an investment, both financially and with their time.
Again, the sort of people you want to connect and collaborate with.
Paid networking events have better organisation and resource.
And can much more likely (if not always) offer a better networking experience.
Including key factors like event venue, catering, experiences, and resource from the organising team to connect attendees.
Organisations behind paid events, like ours, are judged by the quality of their events.
Quite rightly so if people are parting with their businesses hard earned money.
So they/we should be doing as much as possible to ensure you have a positive experience and ultimately, attend regularly.
The resource can help to facilitate more effective networking and make it easier for attendees to connect with each other.
Free or low cost events you are often left to your own to move around the room. With little structure given the lack of resource.
Making it hard to find the right people. And make the most out of your time.
Quality networking organisations are not charities.
They are helping create opportunity for you.
Those that are doing it for free you may want to consider what their agenda is.
And if they are truly looking out for you.
While paid networking events require a financial investment, you often have a higher return on investment in the long run.
Because it's not just the financial investment.
It's your time too.
And you should value that.
In my experience, attendees at paid events are more likely to make (and want to make) genuine connections and build relationships that can lead to new opportunities and collaborations.
Compared to free or low cost events, where attendees are less committed or serious about networking.
One for the I-went-to-an-event-once-and-didn't-get-anything-from-it-ers again.
Ultimately, what I want is for your enjoyment and value derived from networking to increase.
But this is directly linked to the quality of networking events.
Which are those similar to explained above.
Because like any industry, if you do it cheaply and don't see results you were hoping for, it's likely you'll bemoan the service or method.
Thankfully, not every networking event is the same. And there are some brilliant organisations changing the game.
As I truly believe, you've got to find the right event and group for you.
But considering what you're paying (or not paying) for should form part of that decision too.
I learned this pricing business lesson. As you price goes up, so does the quality of your clients.
Or in our case, the quality of attendees and networkers.
I'm now proud to say that most (I'd love to be able to say 'all' but we're working on it) fit the mould of the type of networker I've described today.
I wish I'd increased prices sooner.
You get what you pay for in life.
Networking is no different.
The weekly newsletter for business owners and sales leaders to level up their networking.
1 networking tip, trend or tidbit – every Wednesday morning.
The Networker #46: How To Maximise Your Network (Or Not Networking) In DecemberRead time: 3 minutes & 44 secondsDecember is a funny month for networking. Social events ramp up. Traditional networking events slow down. With many other occasions filling your diary...