Your company front and centre of an event. Before, during and after.
Sponsor one of our events to put your company in front of a large, engaged group of business owners and director level attendees. 
With the support from our team to achieve your sponsorship objectives.
"Sponsoring events gave us the chance to raise awareness to attendees about what we do and how we bring value to our clients and business partners.
This is backed up by the social media content and mentions provided to the wider Network My Club members and audience that is really appreciated.
The team provided us with wonderful support, and premium level networking."
Chris Dickinson, WorldFirst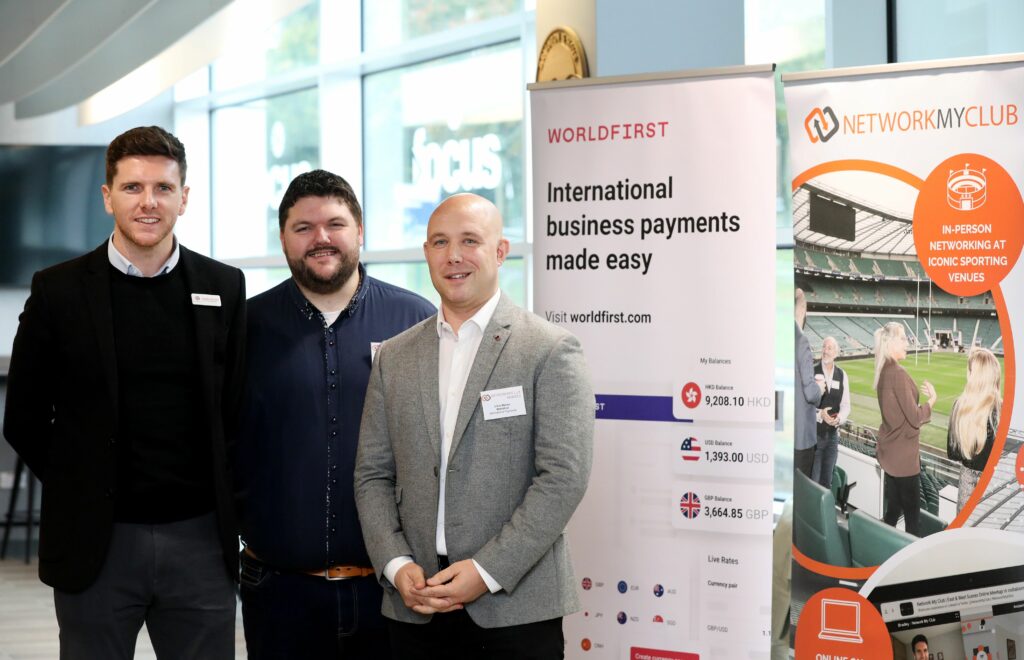 Your company in front of a large group of businesses
Generate new business opportunities, leads and referrals
Reach key decision makers
Share company knowledge to build credibility and trust
Highlight your company product or service to a captive audience
Call with Event Manager to identify sponsorship objectives and discuss methods to reach them
Company logo and direct website link on event booking page
Logo, description, and link of choice in 2 x emails to email database*
Logo on event graphics and company tagged across all our social media posts promoting the event (via LinkedIn and Instagram)*
Sponsor highlight post on LinkedIn via NMC team and company account*
Sponsor area at event for marketing collateral and banners
3–5-minute Q&A with NMC host (with pre-agreed questions)
Company literature or promotional items on event tables/seats
3 x complimentary tickets for staff or clients
Company name and logo on guest list
Unique coupon code offering 40% off places to your clients and connections
Option to run competition or exclusive offer to attendees
Tagged and highlighted in posts via NMC LinkedIn and Instagram page
Tagged and highlighted in NMC team posts on LinkedIn
Event images captured provided to use in your own post event content and marketing material
Feedback and review session with Event Manager
*If sponsorship is confirmed 2 weeks prior to the event.
Company LinkedIn Followers
*Match day, race day, and flagship events (Summer Social and Christmas Collaboration) subject to higher cost.
Member Discount (per tier)
Network – 10% | Connect – 15% | Grow – 20%
Register Interest to Secure Sponsorship