Three membership tiers
Weekly regional and club-wide meetups
Hosted on Remo (not Zoom!)
Time effective
No geographic boundaries
100s of businesses from the South East, London & beyond
Business owners, directors and senior level attendees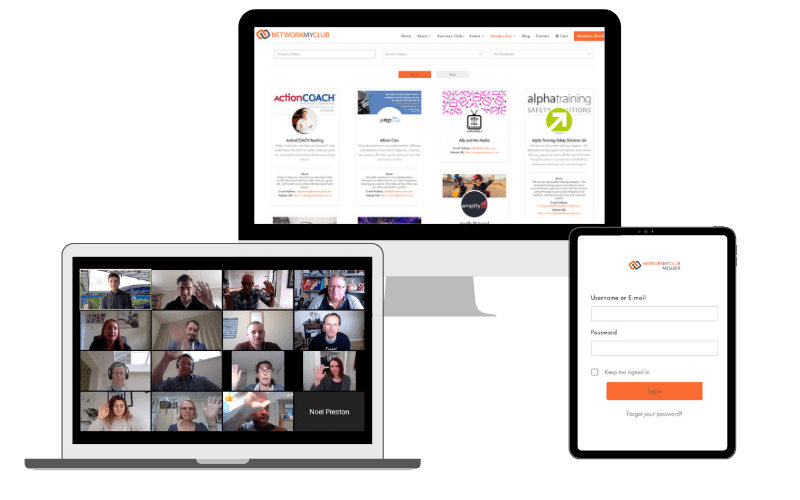 THE NETWORKMYCLUB EXPERIENCE
REGULAR QUALITY NETWORKING
Network with director, business owner and decision maker level delegates at regular networking events. We focus on quality AND quantity to get the right people and businesses in the room.
DEDICATED MEMBERSHIP SUPPORT
Our dedicated and growing team support members however we can. By gaining an understanding of members' businesses, we support members to ensure they achieve a return, both in their time at events and investment in membership.
EXCLUSIVE MEMBER BENEFITS
Through the relationships with our clubs and venues, we agree exclusive member benefits to use to aid business activity, from meeting room space at stadiums, discounts on conference, events and hospitality, tickets to entertain clients, and more! 
ONLINE MARKETING SUPPORT
Got an upcoming event? Some blog content to share? An offer for members? Our team are on hand to support and promote this to the network via our digital channels – at no extra cost!
COMPANY PROFILE ONLINE
Dedicated company profile account on the Network My Club website and a profile on the member directory to showcase your business and make a great first impression.
COMPANY MEMBERSHIP
Say goodbye to memberships limited to just one named person! Membership is company-wide, meaning anyone can attend the events, or shared amongst multiple colleagues.
FACILITATED INTRODUCTIONS
Our team work diligently to understand who our members want to meet, to facilitate introductions to the right people across the entire network, both at and outside of our events.
EXPAND INTO NEW REGIONS
Looking to grow your business or expand your network into new regions? Utilise the opportunity for your company to attend or join other Network My Club groups at an exclusive member discounted rate.
REACH DECISION MAKERS
Tired of going to networking events and being sold to? As a premium membership organisation, our events attract senior level decision maker level delegates that value building long term, mutually beneficial, business relationships.
EXCLUSIVE DISCOUNTS WITH NATIONAL BRANDS
We are continually working hard to build relationships with brands as membership partners to supply our members (and their staff!) with exclusive offers to enjoy both at and outside of work.
LEARN FROM GUEST SPEAKERS
At each event you'll hear a fascinating story from a carefully selected guest speaker. Having ranged from Olympians, ex-military, adventurers, entrepreneurs and many others to date, these TED-style talks provide takeaways to implement into your business or personal life.
NETWORK AT ICONIC SPORTING VENUES
There's a reason we host our events at sporting venues. They are inspiring, versatile and each unique in their own right, meaning they're regularly used as an icebreaker for attendees!
Is membership for a company or an individual?
Membership to all business clubs are for the company, not an individual, meaning it is fully transferable and anyone can attend the events.
Do you have a 'lock out' policy of one business per industry?
No. We welcome all businesses, of all sizes, allowing them the freedom to develop natural working relationships at events, whilst enjoying the benefits of membership.
What kind of businesses and people attend?
Events attract Director level and decision maker lever delegates, from businesses across majority of B2B sectors. The size of businesses are typically mid-large size SME's, but we have everything from a one man band to blue chip brands.
Do I have to work in sports or be a sports fan to join?
No. Our groups are open to businesses from all sectors and for those looking to expand their network with businesses in various industries, of all sizes.

"We've found being a Network My Club member an excellent way to meet like-minded professionals, and with the business club being at such a prestigious venue, those are often in senior positions."

"A very well run, professional, networking club. A relaxed meeting environment with varied and interesting members, as well as good speakers. The food and venue are just a bonus!"

"We've been really impressed with the promotion and awareness the Network My Club team build for members. Events are well attended, with attendees of a high calibre from a range of different sectors."

"Membership has worked well for us, particularly around raising profile and awareness. Events are – without fail – well organised, have excellent speakers and are well attended with most delegates at decision maker level."

Want to join? Have any queries?
Our team will be happy to discuss how we can support your company as members and the benefits of membership to help your business flourish. ​
Simply complete the form and one of the team will be in touch!