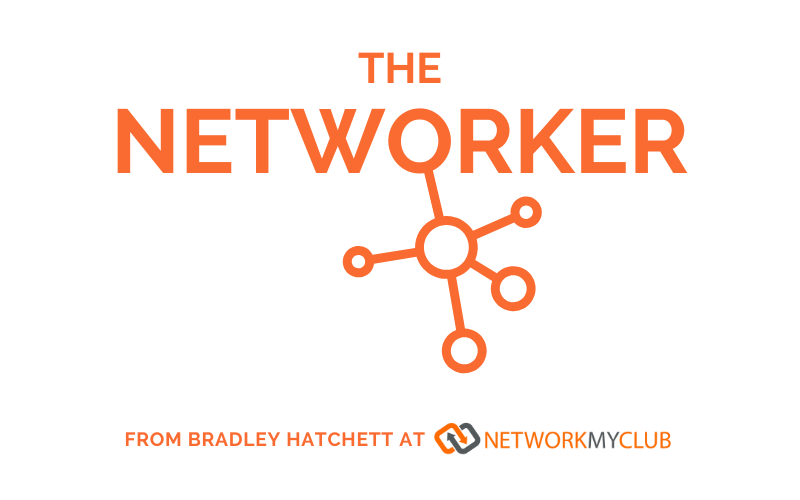 The Networker #25: Maximising Your Time Networking (When You Don't Have Much of It)
Read time: 3 minutes & 22 seconds
The most common reason I hear why people don't attend networking events:
"I don't have time."
I get it. You're busy. Networking takes time.
But not as much as you might think.
If you're smart.
Here's a few pointers to help you get more from less time networking.
Firstly, let's address a key point.
Do you not have time? Or are you not making time?
Because before we go any further, if you want to do anything in life, or believe you'll benefit from something, you tend to make time for it.
So if you're not making time for networking, then you should assess how serious you are about it.
Luckily, as I said, it doesn't need to take up as much as you think.
Believe it or not, the best time to network is when you're busy.
When your sales pipeline is full. And business is booming.
Managing to network then will prove dividends down the line.
Here's why.
As Keith Ferrazzi says in his brilliant book, Never Eat Alone; "build it before you need it".
Networking when your pipeline is full or when you're not in need for something, be it sales or support for example.
Allowing you to focus on building strong and long lasting relationships.
And not attending events with the desperation of needing to get new leads.
As my friend James White, Owner of The Small Business Sales Academy, says; "desperation is a stinky perfume".
And one you don't want to wear to a networking event.
So, if you're time poor, here are ways to to start maximising your time at networking and getting better returns:
1️⃣ Commit to fewer events
Meaning you can attend more consistently, focus on building stronger relationships with fewer people, and being present when there.
Less can often be more when attending the right events for you.
You'd rather have 10 really strong relationships, than 50 weak ones.
2️⃣ Plan your diary around events
Can you schedule a meeting nearby with a prospect or client? Or organise a 1-2-1 with another guest before or after?
Networking doesn't have to start and finish at the event. So avoid looking at networking as an isolated event, and why not build your day around it to maximise your time out?
Turn it into a 'networking day'.
3️⃣ Do your research before events
Who will be there? How will it run?
Invest time researching the guest list, connect with other guests before on LinkedIn, and warm up some conversations.
This reduces the chances of going to the event completely blind and wandering aimlessly in the hope you bump into someone.
Doing so means you're at high risk of deeming it time wasted.
And if you consider it time wasted of course you're not going to make time for it.
More research and preparation, less time wasted.
4️⃣ Excuse yourself from conversations
Most networkers biggest fear and challenge.
Spending too long in conversations means not spending your time wisely.
When it's time to move on, establish next steps (if appropriate) and excuse yourself.
Others will understand. They are there for the same reason (and are normally too afraid to do so themselves).
Be honest and polite, and let them know you're there to meet others at the event.
If you need some pointers on this, I wrote about this specific challenge in edition #17 here.
5️⃣ Ask the organisers
Can they introduce you to someone? Can they point someone out you're looking to meet?
It's in their best interests for you to maximise your time at the event. They're there to help.
If you are benefiting from their events, you'll keep showing up. Win win.
The Wrap Up
'Not having time' indicates to me you haven't yet realised the benefits of quality networking.
Which is why it's crucial to find the right events to be part of.
There are so many styles of networking events, it's ok if you've been to a few 'bad' ones. It's not 'one-size-fits-all'.
But with these tactics, you can turn your approach from not having time to network, to making time.
Even if you don't have much of it.
Happy Networking, Networkers.
The weekly newsletter to help business owners and sales leaders network smarter.
1 networking tip, trend or tidbit – every Wednesday morning.
The Networker #46: How To Maximise Your Network (Or Not Networking) In DecemberRead time: 3 minutes & 44 secondsDecember is a funny month for networking. Social events ramp up. Traditional networking events slow down. With many other occasions filling your diary...