Running an online event can be daunting. Stress no more.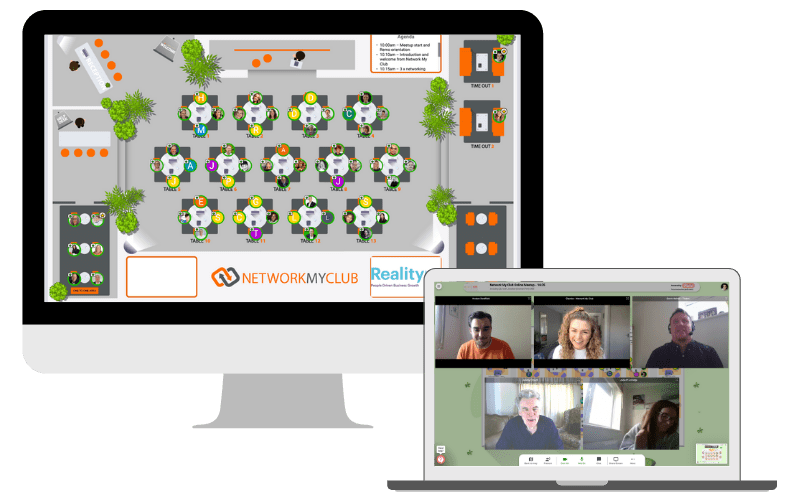 "The way Network My Club online events are set up are amongst the very best I've experienced. I thoroughly recommend working with them to all considering."
Forget cancelling. Forget postponing. Forget thinking it can't be done online.
WE'LL DO THE WORK FOR YOU
Take the pain out of planning, running and managing an event. Ensure you're getting the most out of it by letting us focus on that…so you can focus where it matters most.
BENEFIT FROM WORKING WITH OUR EXPERIENCED TEAM
We've hosted 90+ online events. As a team, we know what works and how to run successful events.
NO MORE LOST REVENUE
From selling tickets to sponsorship packages to exhibitor stands. Let us deal with the online event logistics so you can focus on creating revenue for your business.
SAVE TIME & MONEY
Investing in and learning new software to deliver an online event yourself is costly and takes time. Forget that. We'll ensure you don't waste both.
ENGAGING AND INTERACTIVE EXPERIENCE FOR ATTENDEES
Your attendees deserve something different. An event where they have the freedom and flexibility to move around. Whatever your event, we've got ways to adapt it online.
MAKE IT MEMORABLE TO CLIENTS OR PROSPECTS
Are you a bit 'Zoomed out'? Are all events online looking the same to you? Make yours stand out by working with us on the Remo platform.
Types of Events We Can Help Deliver
Industry Associations & Forums
Company-Wide Meeting & Team-Building
Live Q&As & Panel Discussions
Leicester Tigers worked closely with the team from Network My Club for our Business Club, sponsored by Mattioli Woods. The team were helpful and professional, and nothing was too much trouble. I particularly valued how they explained and talked us through the transition from in-person events to virtual, and were on hand at all times to talk through each step of the platform and any IT issues.
This was our first event with Network My Club, and with our guest speaker Chris Kamara, we decided to use Bradley as a host. After the event we had several comments from our clients to say how well Bradley did and how much they enjoyed the platform. We will definitely be using Network My Club for future events, and would highly recommend them to any business looking for a virtual networking platform.
The Online Platform – Remo
We've delivered 90+ events on the Remo platform. It's interactive, engaging and fun for attendees. See how it works below…
With a Floor Plan Fit for Your Event
Click through our floor plan templates including a networking lounge, pub and awards night, or create one custom for your event!
Your Own Event Sponsors Front & Centre
LET YOUR SPONSOR SHINE
Position your sponsors' logo in front of all attendees throughout the event. Unlike pop up banners and branding on screens at live events, eyes will be on your sponsor throughout!
LIVE LINKS TO SPONSOR WEBSITE
Include a URL from your sponsor logo to a designated landing page or website. Attendees can click through to it at any point during the event.
ASSIGN SPONSOR AREAS OR TABLES
Configure your room layout so your sponsor has their own designated area, table or booth. Attendees can join them to discuss their offering or be shown their product/service.
GET SPONSOR ANALYTICS
See who and how many people interacted and engaged with your sponsor during the event. Feed this information back to them in your post event activation. 
INVITE SPONSOR TO PRESENT
As you welcome attendees or wrap up the event in the presentation mode, use this time to introduce your sponsors and even invite them to join you on screen to put a face to the company.
ADD VALUE TO ATTENDEES
Customise offers from your sponsor to your attendees to add value your event. This could be a special offer, free download or exclusive to what they have to offer.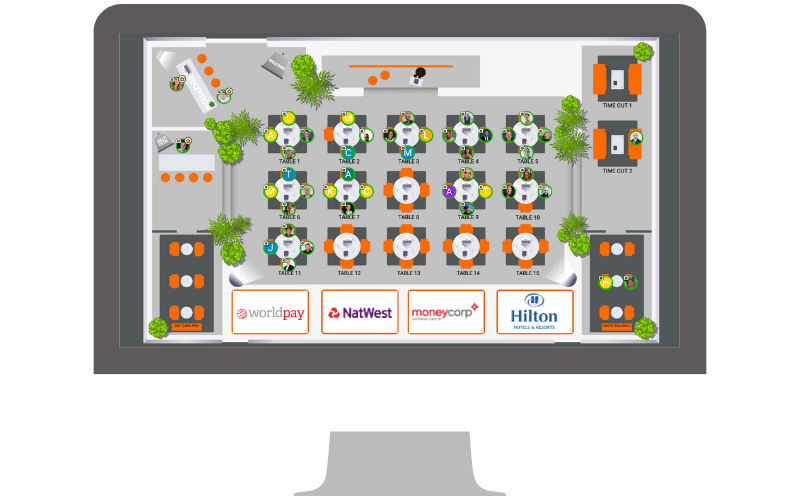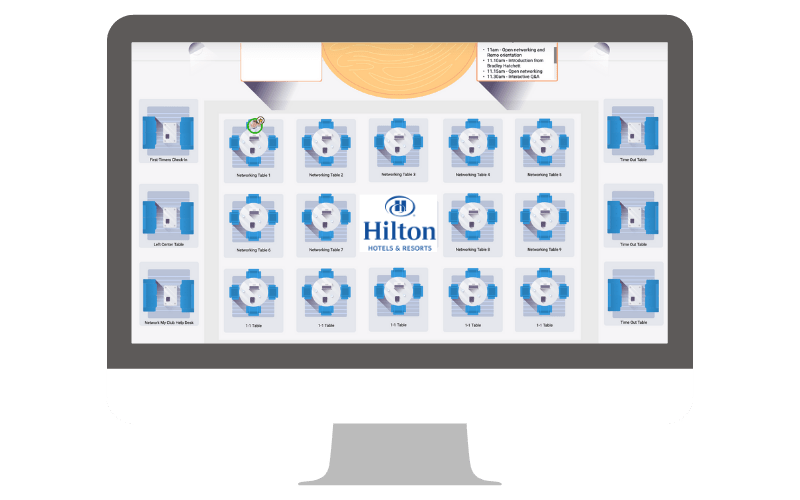 Tell us about your event. No stress if you don't have the details yet, we can discuss ideas over a phone/video call!